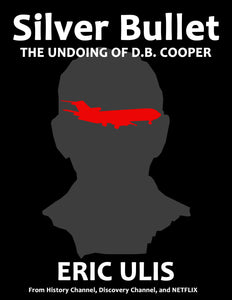 Eric's new 150-page e-book, Silver Bullet: The Undoing of D.B. Cooper, will be available in digital (PDF) format beginning June 3rd, 2023.
Silver Bullet dives into every aspect of the DB Cooper mystery as Eric strives to break the 52-year case. Eric takes his experienced, no-nonsense, fact-driven approach to the effort and focuses on the evidence, leveraging state-of-the-art technology, absorbing 30,000 pages of FBI files, and personally interviewing several critical witnesses to fuel his investigation.
Silver Bullet's shocking conclusions will redefine the DB Cooper case and positions us to solve the case within days.