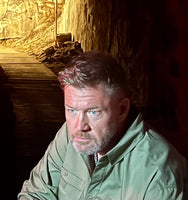 About Eric Ulis
Eric Ulis is a leading expert on notable mysteries including the DB Cooper skyjacking, Gardner Museum Heist, and the missed shot that Lee Harvey Oswald fired at JFK's motorcade.
Eric has been featured on NETFLIX, the History Channel, the Discovery Channel and has appeared on CNN, CNBC, NewsNation and had his work covered extensively within the American and international media including the Daily Mail (UK), The Sun (UK), and 9News (Australia). He also authored, "Silver Bullet: The Undoing of D.B Cooper."
Eric is the founder and organizer of CooperCon—which was prominently featured in the NETFLIX show, "D.B. Cooper: Where Are You?!" He is also the founder of the largest social media group dedicated to the DB Cooper mystery.
Eric's interests include politics, red wine, scotch, and the occasional cigar. He is also an unapologetic cat dad.
Join Eric's DB Cooper Facebook Group
CooperCon 2024 Christmas Pre-Sale Tickets Available Now!
Get the ideal Christmas present now.
Join us at the 6th Annual CooperCon in Seattle for three days of fascinating presentations, discussions, and socializing!
CooperCon 2024 will take place in Seattle, Friday, Nov. 15th, 2024 thru Sunday, Nov. 17th, 2024, 10a to 4p each day.
CooperCon is the world's only annual event focused on the legendary 1971 skyjacking and mystery—the sole unsolved skyjacking in US history.
A special printable ticket is included that may be used to present at Christmas.
Additional CooperCon 2024 details will follow.
Get Your Tickets Now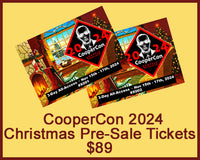 The JFK Assassination Missing Third Shot
The Sun (US) discusses Eric's theory about the mystery of the shot that missed during the JFK assassination.
Read Article
DB Cooper Research From Eric
More Research and Investigations from Eric